Music Radar has recently joined up with Dream Theater musical beast's John Petrucci and Jordan Rudess at Cove City Studios on Long Island, NY to get their thoughts on everything from Mike Portnoy's departure, Mike Mangini's arrival, recording and more.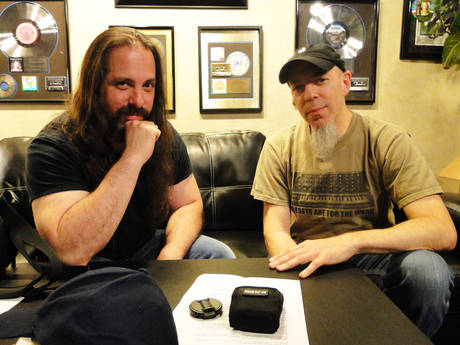 Photo courtesy of MusicRadar.com

There are a ton of great highlights from the interview, as both John and Jordan speak completely honestly and emotionally, but can we just throw this out there first- Petrucci gives the scoop on Dream Theater's upcoming album. He simply says "I think the new album looks good for September. We don't have an official date yet, and we're kind of playing around with titles. But I'd definitely say September is the month we're shooting for." We can't wait!

Planning their future with Mike Mangini behind the kit is definitely what the band is currently focusing on, however Petrucci does back track to when former drummer, Mike Portnoy, first let the band in on his intention to tour with Avenged Sevenold. John remembers "telling him [Portnoy], 'I don't think that's such a good idea, Mike.'"

Rudess also jumped in and gave his honest reaction to Portnoy's ultimate decision to leave DT. Rudess admits that "I literally sat on the steps of my studio and cried. This is a guy who's a friend of mine, who we all love and admire. We didn't want to see it come crashing down. The whole thing brought me to tears." We are glad Mangini is with the band now and that Jordan is happy. No one wants a world class keyboardist crying on their stoop!

On a lighter note, although the loss of Portnoy was a huge one, Petrucci chimed in to set the world at ease about the arrival of Mangini. On the audition process John states "From the second he came in, he just blew us away. You know, playing with Mike [Mangini] was the first time we'd played with another drummer. The feeling we had from him… as a drummer, he was phenomenal. The guy was just a beast. One other thing: I love what he said on the video, which was very important. He said, 'This isn't a gig to me.' That really spoke to us."

The video John is speaking of is still available at Roadrunner Records YouTube Channel here.


For the complete interview hit up MusicRadar.com here.