Story by Leonard Pierce
Live albums can be a tricky proposition. The worst of them are cheap cash-ins, inessential releases for collectors only; but at their best, they come close to replicating the unforgettable atmosphere of actually being there when a great band hits a groove in front of an energetic and responsive audience. This week sees the release of
Time Machine 2011: Live in Cleveland
(click title to purchase), a double live disc from
Rush
– a band with a sterling reputation for spectacle and surprise on stage. It's their first live album recorded in the United States, in a city the band's long considered their adopted hometown. Cleveland radio was the first market to play
Rush
records and the first US city they played live (
see this story for details
), and the band has retained a diehard fan base there ever since. It also finds the band running through their 1981 album
Moving Pictures
in its entirety, in addition to nearly 90 minutes of hits and brand-new material.
But
Time Machine 2011: Live in Cleveland
is just the latest in a long series of diverse and dynamic live releases from Roadrunner. Here are some more, in case you weren't there in person.
Sepultura
,
Under a Pale Grey Sky
Some great art comes from profound despair. That's the case with this 2002 double live album, recorded in London in 1996. Frontman
Max Cavalera
, whose voice has never sounded more commanding, would leave the band that very day; but he goes out with the biggest of bangs. On "Endangered Species," the crafty acoustic jam "Kaiowas," and the show-ending monster cover of
Motörhead
's "Orgasmatron,"
Sepultura
doesn't sound like a band that's coming apart, but one that's never been more together.
Machine Head
,
Hellalive
This hard-touring band's only live album could be
Pale Grey Sky
's little brother: both were recorded at London's Brixton Academy, during tumultuous times for each group. This 2003 release documents shows from December 2001 and July 2002, the latter featuring the debut of
Robb Flynn
's old bandmate from
Vio-lence
,
Phil Demmel
, on guitar, replacing
Ahrue Luster
.
Demmel
's work on "None But My Own" and "The Burning Red" is ferocious, showcasing what he'd soon bring to the band's studio releases.
Slipknot
,
9.0: Live
More than just a great live album,
9.0: Live
is an essential
Slipknot
record on its own merits. Recorded over a series of dates in 2004 and 2005, it shows what a band at the peak of its powers with an audience willing to follow them to hell and back can do. It's a powerful mix of well-known songs and rarities, showcasing every member of the band (especially drummer
Joey Jordison
, who's masterful on every track).
Nailbomb
,
Proud to Commit Commercial Suicide
They weren't lying about the title, anyway: this 1995 album (mostly live, with a pair of studio leftovers tacked on) would be the last anyone would hear of this
Max Cavalera
/
Alex Newport
side project. At least they go out with a bang, delivering 45 minutes of filthy, thrash-influenced extreme metal; what makes it fun are the many guest stars, including, of all people,
Dead Kennedys
drummer
D.H. Peligro
, who stops by for a cover of "Police Truck" halfway through.
Deicide
,
When Satan Lives
Deicide
's live sets can be hit-or-miss, but luckily, their solitary live album – recorded in 1998 at Chicago's House of Blues – catches them at a high point. Every song is tightly wound,
Glen Benton
is in full control of his subterranean snarl, and the
Hoffman
brothers sound like they're having the time of their lives blasting through breakneck versions of "Blame It On God" and "Dead By Dawn," among other highlights.
Type O Negative
,
The Origin of the Feces
Leave it to the Drab Four to produce an unforgettable live album that's not really live. The band blew the advance for this 1992 release on booze and then created a fake concert (complete with absurd stage banter) in their basement. Fraud or high-concept joke? Who cares? It's a gas if you approach it in the right spirit. Bonus points for the original cover, an, uh,
intimate
look at front man
Peter Steele
(note: this art is reinstated on the band's limited-edition vinyl boxed set).
Dream Theater
,
Chaos in Motion 2007-2008
Dream Theater has always lived and died by their live shows: relentless tour schedules, unpredictable set lists, unhinged improvisation, and a lively bootleg culture are hallmarks of the band.
Chaos in Motion
is a crazily comprehensive collection of material from one of their most ambitious tours: the 3CD/2DVD special edition includes hours of live material from over a half-dozen shows, backstage interviews, a documentary, music videos, and more. It's ambitious and sprawling, like a typical Dream Theater song.
Obituary
,
Dead
Get it? Because it's a
live
album, see, but they're a
death metal
band, so…okay, look.
John Tardy
wasn't put on Earth to be clever. He was put here to bellow guttural groans while his band lays down brutal, punishing riffs, and that's just what happens on this 1998 album, drawn from a 1997 Boston show by the Florida-based band.
Opeth
,
In Live Concert at the Royal Albert Hall
Another document that transcends "live album" status to become an essential, must-own highlight of a band's discography, this 2010 3CD/2DVD set finds the always-unpredictable Swedish outfit in brilliant form. The full package finds them doing a complete run-through of their 2001 album
Blackwater Park
, as well as a lengthy set that puts their diverse and ever-changing musical history into crystal-clear perspective. Everyone in the band is at the top of his game; this is simply a classic live release.
Within Temptation
,
Black Symphony
This aptly named album is the first live record from the Dutch symphonic metal outfit. You certainly can't fault it for lack of ambition: playing before a howling hometown audience,
Within Temptation
pulls out all the stops on this CD/DVD spectacle, featuring tons of guest stars, a choir, a 60-piece orchestra, and a
Cirque de Soleil
-style gang of acrobats. We're pretty sure there's a kitchen sink in there somewhere, too.
DragonForce
,
Twilight Dementia
Fans of subtlety and the unexpected, look elsewhere. But if you want to know if
DragonForce
can truly make their guitars perform feats of inhuman speed and unthinkable daring in the real world,
Herman Li
and
Sam Totman
are happy to prove that they can – over and over again. This 2010 double-disc is also notable as a historical moment: it's the last official
DragonForce
release to feature departed vocalist
ZP Theart
.
Biohazard
,
No Holds Barred: Live in Europe
Showcases, tour documents, and historical snapshots are the most common modes of live albums, but sometimes, they're just a sloppy wet kiss for devoted fans. That's the case with this 1997 compilation of European tour dates: while the performances themselves aren't revelatory, it's a comprehensive stroll through the band's entire catalog at the time, and appeals to fans who saw them live a dozen times and wanted to recreate those memories at home.
Life of Agony
,
Unplugged at the Lowlands Festival '97
Although the title of this 2000 release is a bit of a misnomer – only half the tracks were recorded at the Dutch rock festival, with the rest coming from shows in Germany and the U.S. – it's an interesting development in the career of
Life of Agony
. Live albums can be risky, and acoustic gigs even more so; give the band credit for not only taking those risks, but pulling them off with style and skill.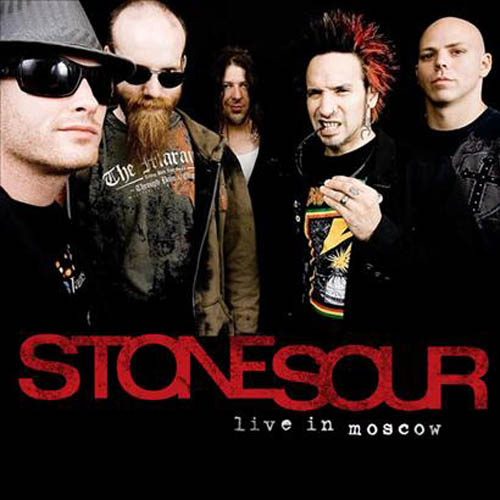 Stone Sour
,
Live in Moscow
Released as an iTunes-exclusive digital download,
Live in Moscow
remains
Stone Sour
's only official live album. The band acquits itself well, turning in solid versions of "Inhale" and "Get Inside" and a particularly epic take on "Bother," but it's the audience that's the key ingredient here. An enthusiastic crowd is essential to a great live show, and Moscow loves its metal; the energetic feedback from the fans help elevate the whole performance.
***
Rush
's
Time Machine 2011: Live in Cleveland
is in stores today. You can get it
on iTunes
or
from Amazon
.